As a leader, I've discovered that listening, speaking, and writing effectively have been the foundation of the successes I've had. So it was a pleasure to read this book that tackles these critical aspects of effective communication and more – in a convincing manner.
If you want lasting results in your career or business, then read this book regularly and simply do what Lucille recommends.
~ Dr Andrew S. Nevin (PhD)
West Africa Financial Services Leader and Chief Economist, PwC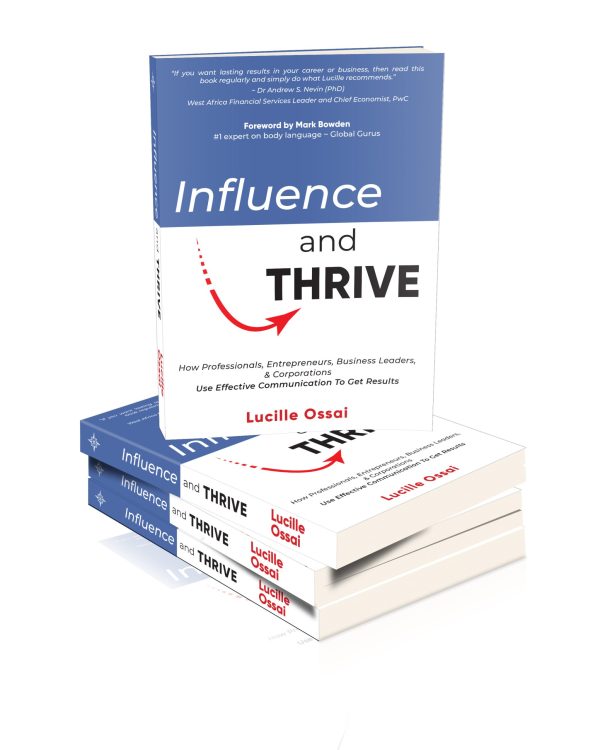 Influence and Thrive is a comprehensive book on communication for business people, entrepreneurs, and organisations. It covers all aspects of communications – from speaking and writing skills for professionals, to corporate and strategic communications for organisations and handling social media.
A detailed and well-referenced book, it is written in a persuasive and accessible style, with lots of practical advice and tips for readers to improve and hone their communication skills.
This how-to communication guide is a treasure that will benefit every professional in an age where communication takes place over a plethora of media and platforms.
Bravo to the author, Lucille Ossai!
~ Dr Anino Emuwa
Founder & Managing Director, Avandis Consulting

You'd be hard pressed to find a job description these days without some version of the statement: "Excellent written and verbal communication skills required." These skills are treated like some piece of software that is merely downloaded to your professional skill set. 
Influence and Thrive addresses this gap head on because it provides clear and engaging instructions for anyone looking to boost their communication skills. From public speaking and interpersonal conversation to non-verbal communication, Lucille uses captivating stories and interviews—combined with solid scientific research—to draw you in and keep you coming back. You'll want to keep it on your desk and refer to it many times to upgrade your communication skills.
~ Jay Netherton
Executive Communication Manager, Blue Cross and Blue Shield of Texas

This book is written with a personal tone that makes the topic approachable for everyone.
It will satisfy those curious to increase their knowledge, as well as those seeking  excellence in terms of communication techniques.
Easy to read yet exhaustive, this book will help to build self-confidence in  non-verbal communication, public speaking, and essential business writing  skills.
~ Jean-Marc Ricca
Managing Director, BASF West Africa

Effective communication is indispensable to being a person of influence and achieving success in life and business. 
I have had the pleasure of reviewing this great work by Lucille Ossai and must commend it for relevance, depth, and readability. Aptly titled Influence and Thrive, it demonstrates the clear link between communication prowess and success in business and personal careers. 
Deploying relatable accounts and sharing conversations with leading authorities on relevant schools of thought, this comprehensive work covers the fields of non-verbal communication, public speaking, and business writing. Lucille provides clear and practical guidance on techniques in the effective use of body language, your tone of voice, starting with a punch and closing strong, delivering your point, as well as eliciting feedback and making a call-to-action.
I agree completely with Lucille that "Excellent communication skills are no longer 'soft' attributes. They're essential tools that you'd require to thrive in this fourth industrial revolution of limited online attention spans, information overload and tech innovations."     
Accordingly, I recommend this book to every professional, career or business person, politician, or public servant as a vital tool for personal development in the area of communication.    
~ Toyin F. Sanni 
Group Chief Executive Officer, Emerging Africa Capital Group

As an entrepreneur, business leader, and public persona, I found Influence and Thrive to be affirming and truly valuable. 
The author, Lucille Ossai, delivers a blueprint for all professionals to level up using strategic communication, which she rightly deems an imperative skill in the current environment.
This book contains stories, examples, concepts, and 'hacks' that span non-verbal communication, oration, written communication, and more. Techniques are presented in such a way that any reader can comprehend and implement straight away.
I will recommend this book to friends and clients looking to advance their careers or personal brands. I believe that Lucille's insights on communication and focus on perpetual improvement will be a personal game-changer for many. As one who thrives as an influencer, many of the lessons I learned along the way could painfully have been mitigated had I read this book years ago – but it wasn't written then.
I am a fan of this genre and herald this work as one of the best and most concise books on the subject – instantly a favourite and a top recommendation. 
Three cheers for the author. I look forward to her future publications.
~ Cory Warfield
Chief Visionary Officer, Shedwool: shedwool.com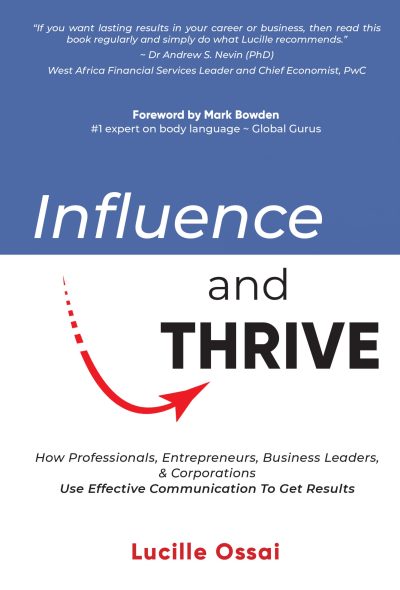 I've found this book to be very well written, with very good use of personal anecdotes that make the subject matter relatable and accessible to all.
I really appreciate the use and acknowledgement of external influencers from the real world with links and pointers to their work – which made the experience all the more worthwhile and fulfilling.
I plan to use this book as a reference and guide that I can turn to time and again. 
~ Akin Banuso
Managing Director, Microsoft Nigeria & Ghana

Lucille Ossai's new book Influence and Thrive is a must-read for every professional who needs to represent themselves or their organisation in public. It is extremely well-researched and sprinkled with wonderful stories of Lucille's amazing life and experiences. She is both thorough and yet curious: going the extra mile to delve deep into questions that arise, such as the 'fake it till you make it' mantra, and gestures and their meanings.
The author's attention to detail makes this book extremely user friendly – especially because at the end of chapters and sections, she encapsulates all the nuggets in the 'key takeaways' and 'wrapping up' segments. This is a great way to embed all the valuable information she's shared, and it also helps reinforce the ideas and suggestions – before the reader is introduced to more ideas.
Brava Lucille!"
~ Andrea Devaux
Public Speaking & Media Coach. Author of 'No Such Thing as Off the Record'

In today's globalised and highly connected world, persuasive communication is a critical enabler of success. Communication also amplifies the opportunity for trust, as Amy Cuddy states, to become "a conduit for influence".
The author writes from a uniquely personalised perspective, but comprehensively captures the options we need to consider to shape outcomes for our benefit. She also focuses on three main communication themes: the non-verbal, public speaking, and business writing. 
Lucille makes excellent use of a combination of experts, real-life stories, practical examples, and personal experiences. She then nicely balances theory and practice through five key sections of the book. Each segment is richly infused with tailored examples, and handy tips – all emphasising tangible beneficial outcomes.
While reading, one is pragmatically guided through a journey of understanding on how to leverage communication skills to directly influence positive results. For example, the power of 'inauthentic' gestures and intonation to engage is well known. But Lucille recommends using them strategically to amplify results, and her advice should be taken seriously. 
My curiosity was also piqued by the logic behind the 18-minute rule for speeches and presentations for maximum engagement. We all too often can drone on, and that reminder is a powerful reset tool. There are many such lightbulb moments scattered through the book.
The author also explains how to best deliver different types of communication for success. Her recommendations will be highly empowering to aspiring and existing leaders, entrepreneurs, and professionals seeking to up their game, thrive, and stand out from the crowd. 
This book is your call to action. So read, listen, learn, and you'll hopefully excel in your field.
~ Eskil Jersing
Director, Eskoil Ltd.

Lucille's tips in this book offer unique perspectives that are backed with the data from experts in the field of communication.
Her personal stories—that encompass the areas of verbal communication, public speaking, and writing—are wrapped up in business skills that are essential to any developing business leader, or those looking to heighten their skills of business communication.
A highly recommended read.
~ Antoni Tzavelas
Google cloud course creator, AntonIT Training: training.AntonIT.com

One key lesson that we have learned from the current climate is the importance of effective communication – especially from political and business leaders. So to have a book that addresses this subject is not just timely but essential. If you are looking for the perfect guidebook on the subject of effective communication, then Lucille Ossai's Influence and Thrive is a must-read.
Every chapter is filled with real-life examples and 'nuggets' of valuable information. Lucille also provides practical recommendations for ensuring your communication is succinct. One useful suggestion that resonated with me is taking advantage of pro bono opportunities to develop your public speaking competence.
The multiple calls-to-action in this book make this resource a fascinating read.  
~ Adesola Orimalade
Director of Treasury, Kiwi.com

Over the last few weeks, I scheduled regular reading sessions to review Influence and Thrive. I started relating certain strategies to my current situation such as power poses, visualisation, testing the inconspicuous palm positions, and on a smaller scale, the SCAN system.
I regularly practise nonverbal cues, and these have become normal behaviour for me. Still, this book highlights the significance of using strategic nonverbal behaviours to thrive. This will serve as a valuable reminder for the reader who wants to build trust and increase influence.
Everyone will use this book a bit differently. It is a well-structured resource that allows professionals to make references to specific excerpts as needed. I appreciate the summary of each chapter, the relatable accounts, and, of course, Lucille's memorable personal touches.
This book should not be rushed because value is inherent in every part: from nonverbal communication and public speaking to business writing. As I have done over the last couple of weeks, I have consciously used parts needed to enhance my work, and I try to better understand my audience.
I strongly recommend this book.
~ Brad Brijodhan
Owner, Retail Millions Consulting Inc.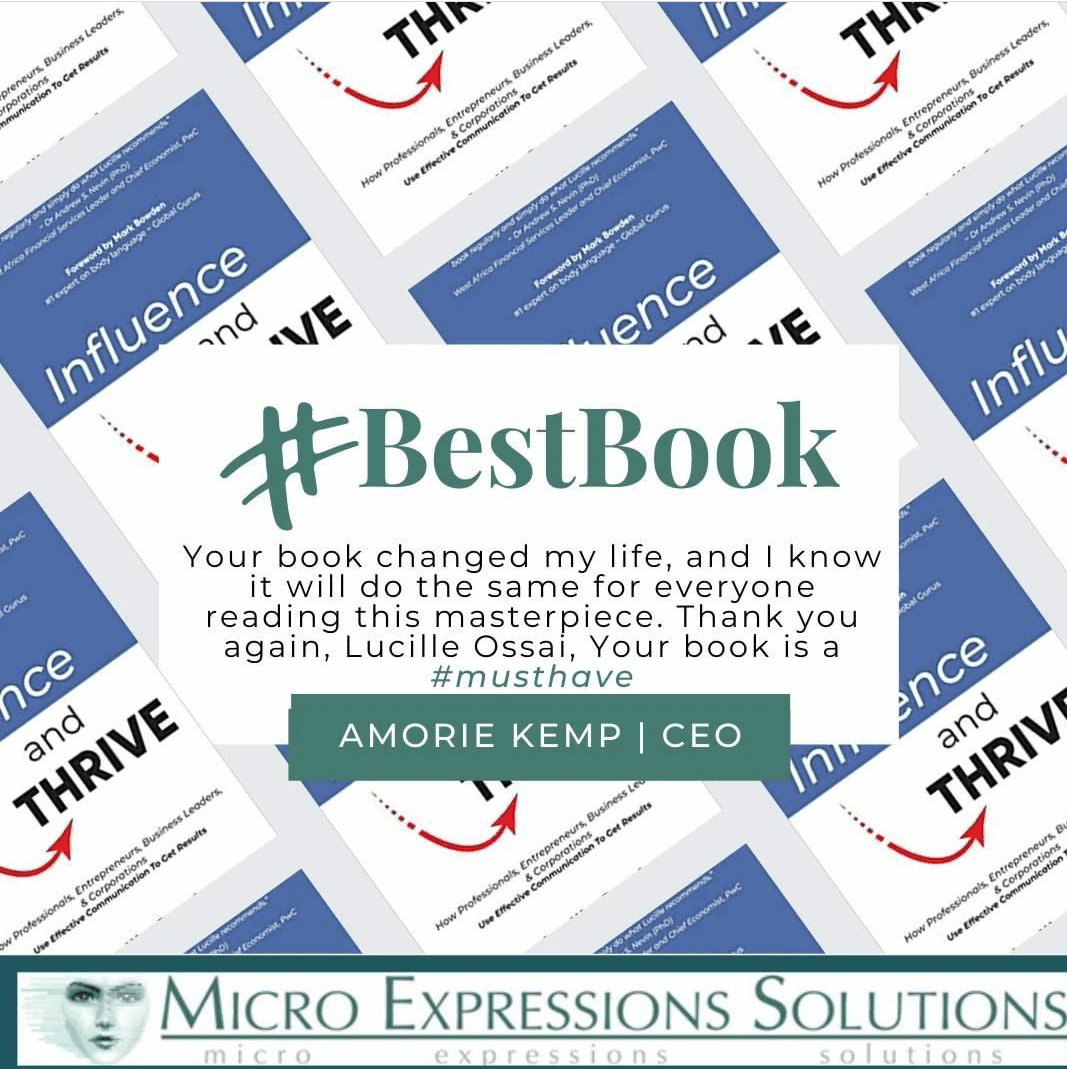 The Book That Broke The Myth
As an individual who harbors some level of apprehension for public speaking, this book helped provide useful insight, actionable tips and success stories from real life experiences which eventually allowed me to face my apprehension and look forward to speaking in front of people without the fear of Judgement. The author Mrs. Lucille Ossai has utilized her years of experience as a Communications Coach and a reputable Speaker to publish what can be termed as an Industry's detailed reference guide on how to Influence People and Thrive while doing so through effective communication. When you go through this book, it will feel like a good and experienced friend is giving you crucial advice and holding your hand till you find your feet with Public speaking and effective communication. I will have to emphasize that this book covers all topic on effective communication which include, effective business writing, understanding the psychology of the audience you wish to address, captivating the hearts and minds of your audience with relevant stories and just to mention a few. I thoroughly enjoyed this book but the real success is the confidence I was able to build from reading his book and practice what was recommended. I personally encourage anyone who want to improve their professional and personal communication prowess to get this book, you will happy that you did.
A Valuable Resource for All Communicators!
With "Influence and Thrive: How Professionals, Entrepreneurs, Business Leaders, & Corporations Use Effective Communication To Get Results," Lucille Ossai Leverages in-depth research, personal experiences, and smart conclusions in a highly readable way. Her book is also impressive in scope, covering everything from speeches and storytelling to emails and PowerPoint presentations. I consider "Influence and Thrive" a must-have resource for all communicators—from students to CEOs—who will return to it again and again for practical advice to engage and inspire their audiences.
Excellent. Comprehensive and practical, and all backed by research
I have read many books on leadership and communication and I would place this one right up there with the best.
The writer, Lucille, has clearly put a huge amount of work into researching her topic, with lots of statistics, data and references to research papers. But she uses this research only where it matters and only to elucidate an important wider point about communication and leadership.
I found the book incredibly comprehensive, covering specific topics like storytelling, listening, writing emails, PowerPoint presentations etc in exactly the right amount of detail.
I loved the real world anecdotes from both her own life and well-known businesses because they put practical flesh on the bones of the theories and ideas in her book to bring them alive.
And the personal touch of sharing what she learnt in her childhood about communication from her own parents and siblings was endearing.
All in all a five star guide to effective communication that I would heartedly recommend.
Unputdownable!
As a skilled communicator, the author distilled her knowledge effectively in the book. I found it engaging and interesting to read. Lucile Ossai's Influence and Thrive is a great adventure: exciting, inspiring, captivating and insightful.
A great book on how to improve your communication skills!
I thoroughly enjoy reading this book! Lucille Ossai and her book, "Influence and Thrive," will teach you all the best practices and modern communication techniques (in speech, written and body language communication), to boost your ability to clearly convey the best side of you and your business. I liked the fact that she interviewed and studied the best-of-the-best communication techniques from modern thought leaders, and then summarized the most prominent teaching tips she gleaned from her thorough research. Finally, I was impressed with the layout of the book in bite sized chapters that were easy to follow and with "takeaways" offered at the end to help you easily remember what you had just read. I highly recommend this book!
For Nigerian residents only: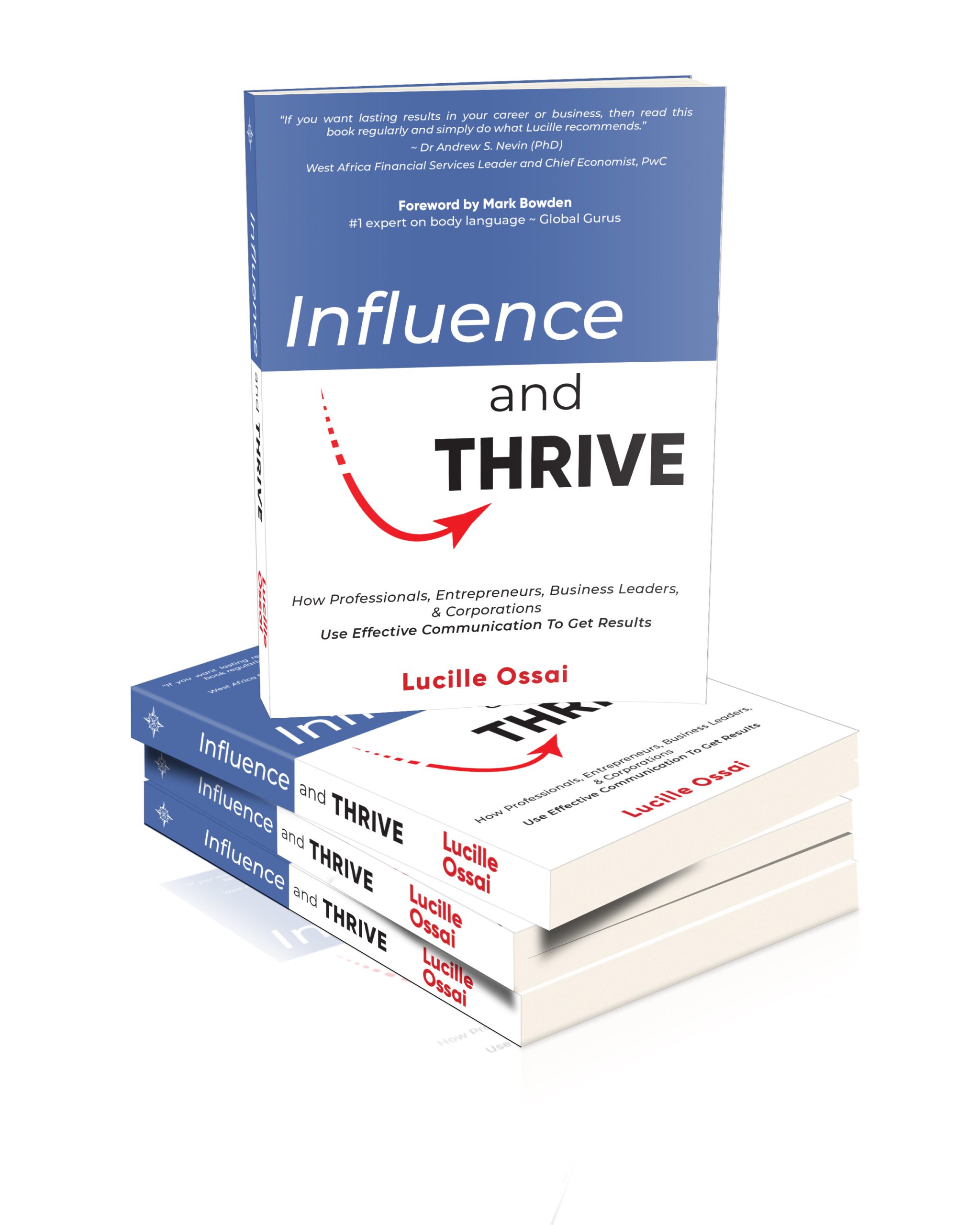 Influence and Thrive: How Professionals, Entrepreneurs, Business Leaders, & Corporations Use Effective Communication To Get Results (Paperback)
₦17,500.00
For special signed orders (minimum bulk order of five books in paperback format), please email your request to Lucille@LucilleOssai.com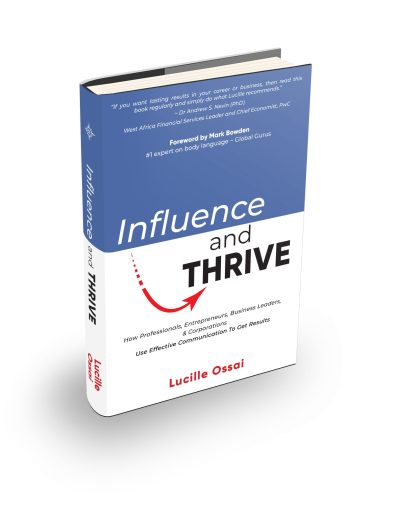 Influence and Thrive: How Professionals, Entrepreneurs, Business Leaders, & Corporations Use Effective Communication To Get Results (Limited Edition Colour Hardcover)
₦65,000.00
For special signed orders (minimum bulk order of 10 books in hardcover format), please email your request to Lucille@LucilleOssai.com. 
Note:
This version is not available online.